Creating an App for your organization is easier that you think
Mar 16, 2015 03:45 PM

Does your organization have an app?

Creating an app is easier than you might think. We use Xojo to create iPhone, iPad, iPod, Mac, Windows, Linux. For Android, we use the Android Developer Kit. Xojo cannot create Android apps yet, but they do have plans.
We created one of the first Xojo apps to be approved on the iOS app store,
Reference for FileMaker
. We have a couple of apps in development and just released our first Android app for our friends at Christian Camps & Conferences.
Camp is my middle name. Literally.

We've been helping out Christian Camps & Conferences for many years with their FileMaker database. I remember when Bob contacted us about helping out with FileMaker. Bob said he runs a camp and wanted to know about our experience creating software for camps. I explained that our name was CampSoftware, but it's named after my middle name "Camp" passed down from my Grandfather to my Father, to me, and to my Son. I said we've haven't worked with a camp yet, but we work with all types of businesses and we learn very quickly.
Retreat to New England

Christian Camps & Conferences
is located in New England and has an amazing
summer camp program
and also a
conference center
for retreats. From their website: "Christian Camps and Conferences, Inc. is a non-profit foundation with the mission to foster vibrant Christian communities in awe-inspiring outdoor settings where young people are spiritually transformed through Christ-centered relationships."
Conference Center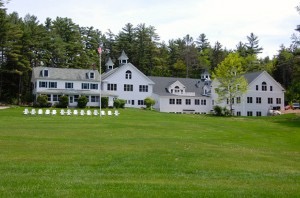 Android meet iPhone

Years passed as we've worked on several projects together. A few weeks ago, Bob contacted us about creating an Android app for his camp as they already had an iPhone app. So we took a look at their iPhone app and provided a ballpark estimate regarding the costs.

The Android app turned out to be really nice and Bob was pleased, which made us happy!

The app includes access to their web cams, registration, directions, and a countdown to the first day of each camp session. The web cams don't look like that right now as it just snowed 6 inches yesterday!


Android App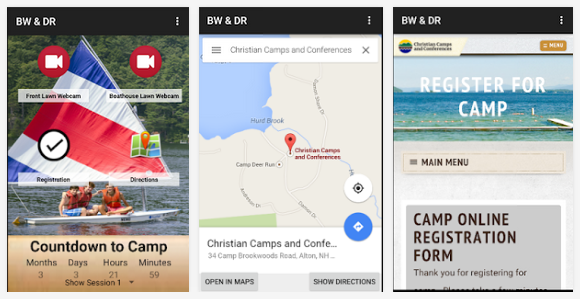 Web Cams