FMSmallBusiness (FMSB) on iPad FileMaker Go - First Glance
Jul 20, 2010 05:43 PM

Today, we launched our flagship solution, FMSmallBusiness on
FileMaker Go
. Looks amazing and most items are working well too!
We've tried it with our database, but please be careful testing your database. FileMaker Go does not have the entire set of features that FileMaker on your computer does. Please read the
list of the known issues
.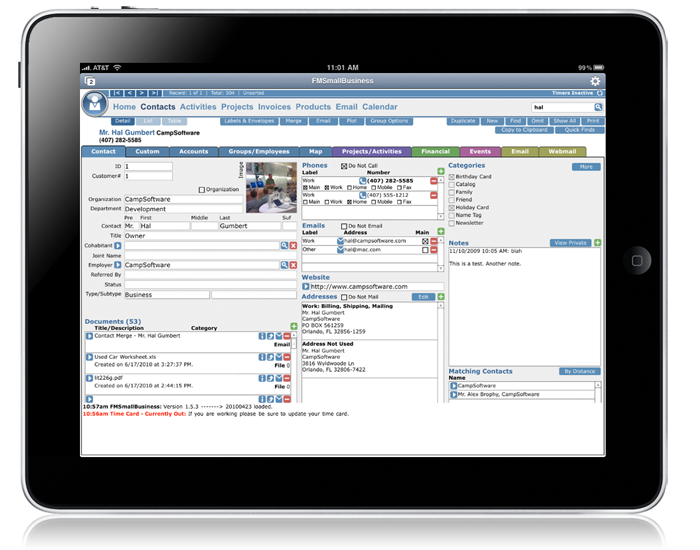 On our first launch of FMSmallBusiness, we accessed the Home screen and the Contacts module as you can see above. So far, it seems to work great with no modifications. That said, we will be releasing an update to further support FileMaker Go on iPad. We also plan to create special layouts for FileMaker Go on iPhone.
Today is a great step forward for FileMaker Developers and those who use FileMaker every day. Up until now, it's been difficult to access FileMaker data on mobile devices. With FileMaker Go you have a few choices on how to access your database:
First, you can connect to your database on FileMaker Server just like your can using FileMaker on your computer. This works via Wi-Fi or via 3G.
The second way is to copy the database to your iPhone or iPad using iTunes or your can email a database to yourself.
To go one step further, you could set up your FileMaker Server to backup your database, copy it to DropBox, and use DropBox on your iPhone or iPad to open the database. Using this method, you could have a very recent version of your FileMaker database available if you lose your internet connection, if you plan ahead…