FileMaker Go 1.1.1 - Updated with 5 Fantastic Features
Sep 23, 2010 05:00 PM

Today FileMaker Go was updated to version 1.1.1 with several amazing features. Download FileMaker Go for
iPad
and
iPhone
. From the press release and the the kb with comments in bold. If you'd like to implement any of these,
get in touch
.
Users can now produce PDFs directly from FileMaker Go and either save them on their mobile devices or email them. This feature lets mobile users easily save and distribute reports, create invoices, and share project status directly from their iPad or iPhone. While we can't print from FileMaker Go now we can email a pdf. That's almost as good. We're finding that we print less and less, but some thing just need to be on paper...
Another enhancement is the ability to save a copy of a complete database and email it directly from FileMaker Go. With this feature, iPhone and iPad users can exchange databases from their devices without needing to dock with a desktop or laptop. This is very interesting. With this feature, we can now develop a database for the office and mini databases for in the field. If you ran an inspection company, you could have your main database in the office and send your inspectors a mini database that simply performs the inspections. At the end of the day, the inspector could run a script to email you their database with the inspection results and then clear the data from their mini database for the next day.
Also new is the ability for FileMaker Go users to import records from local or hosted FileMaker databases using script steps. This item is similar as emailing a complete database, but could allow for importing data between the home office and the inspectors in the field. This could also be thought of as a method to sync data in one direction or the other, but not a full sync…
The update also delivers new ways to work more efficiently with photos and other media and information. FileMaker Go users can capture photos on an iPhone, or take photos that are already in the photo library of an iPhone or iPad, and insert them directly into a FileMaker Go database. Photos stored in a database can be emailed out later using FileMaker Go. Other file types, such as spreadsheets, can be emailed directly from FileMaker Go. Being able to add photos via the built in camera or the photo library is very nice. Soon, probably in the next day or so, the first FileMaker Go add on will be available to scan for barcodes too. Storing documents of other kinds like pdf, Excel, or other formats will be very useful as well.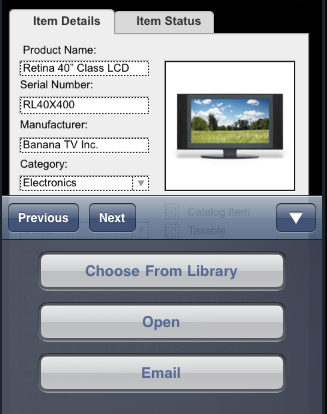 iOS app developers may take advantage of the newly enhanced URL protocol from FileMaker for calling FileMaker Go. Using the URL protocol, developers can now specify a FileMaker Pro script and script parameters. This allows developers of commercial and in-house iOS applications to extend FileMaker Go databases and provide a wide spectrum of useful solutions such as bar code scanning. For example: FMP7Script://192.168.10.0 /Client.fp7?script=ListClients&param=TopClients&$NumberToList=10 This is probably the most amazing new feature. In fact, the soon to be available barcode scanner will be using this technique. You'll scan a barcode and then a URL will be built and launched on the fly which could simply pass the barcode value to FileMaker. In the URL, parameters can be passed to do things with the barcode value such as add an item to an invoice.
Be able to require users to re-log onto FileMaker Go after iPad hibernates. This is great for security. With this new feature, you can now disable the Auto-Restore Login to prevent the database from automatically opening when anyone one launches FieMaker Go. Security is very important for most databases.