FileMaker Go 1.2.1 Released with Printing, Signature Capture, and Charts
Apr 20, 2011 03:45 PM

This morning, FileMaker Go was updated to 1.2.1 for both iPad and iPhone. Download
http://bit.ly/FileMakerGoiPad
or
http://bit.ly/FileMakerGoiPhone
The 'What's New' list included the following items. Looking at the list, you can definitely see the focus on adding what is needed to increase productivity and what enterprise customers need.
The 'What's New' list included the following items. Looking at the list, you can definitely see the focus on adding what is needed to increase productivity and what enterprise customers need.
Adds support for FileMaker Charts (compatible with FileMaker Pro 11).
Records and saves signatures to the database file.
Adds support for printing.
Improves rendering, display, and printing of PDFs.
Sends notification to user when there is a record lock conflict.
Adds ability to open hidden files.
Resolves compatibility issues when running on iPad.
Bugs Fixed

This is a great update for everyone and seems to fix some bugs too. Just yesterday I took a photo into a container on iPad 2 and FileMaker Go locked up. I'm happy to say that it worked great this morning. I was able to take five photos including the bottom of my cereal bowl...
There is one major annoyance that hasn't be resolved yet. If you are using FileMaker Go database that has a password jump to another app and then come back to FileMaker Go, you have to keep entering your username and password. I've even set my username under settings and if that would autofill, I'd be pleased.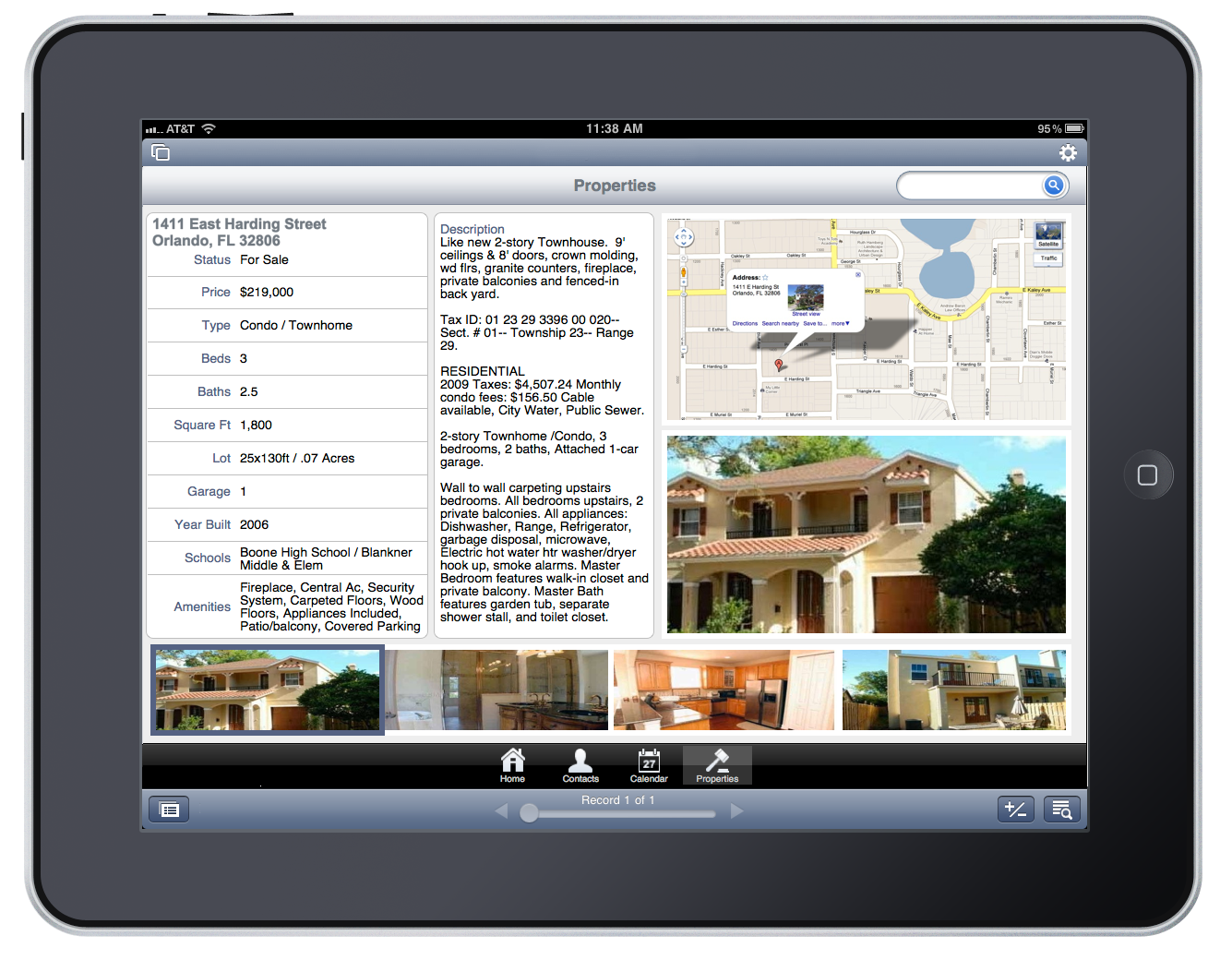 Signature Capture

This feature is my favorite! As many of you know, we released an open source solution so folks could capture signatures and even draw images. While this makes our solution somewhat redundant, I'm very happy to have signature capture built into FileMaker Go: http://campsoftware.com/products/qc-signature-capture/ Our solution was also included in the FileMaker eNews: http://campsoftware.com/2011/02/campsoftwares-signature-capture-in-filemaker-enews-issue-5/ Using the new signature capture is easy. Just tap on a container field and a popup window will appear allowing you to choose to insert a photo from your library, capture a signature, or take a photo. When you choose to capture the signature, a full screen window will appear where you can draw anywhere. The signature screen seems to always be landscape, even if the iPad was held in portrait mode beforehand.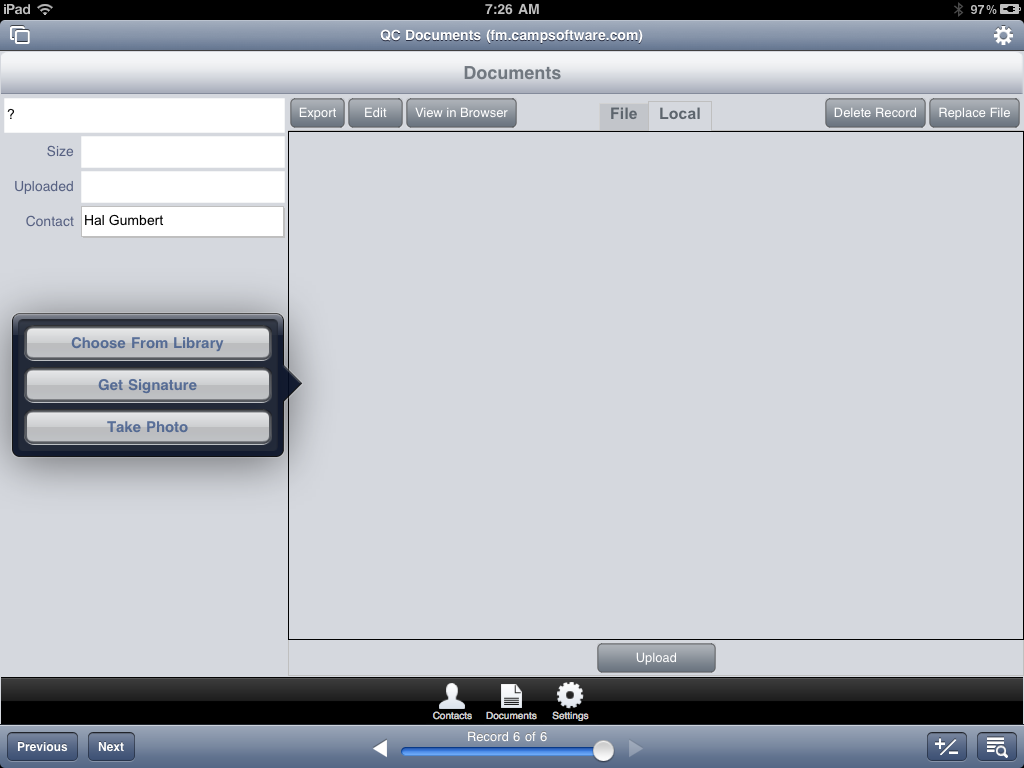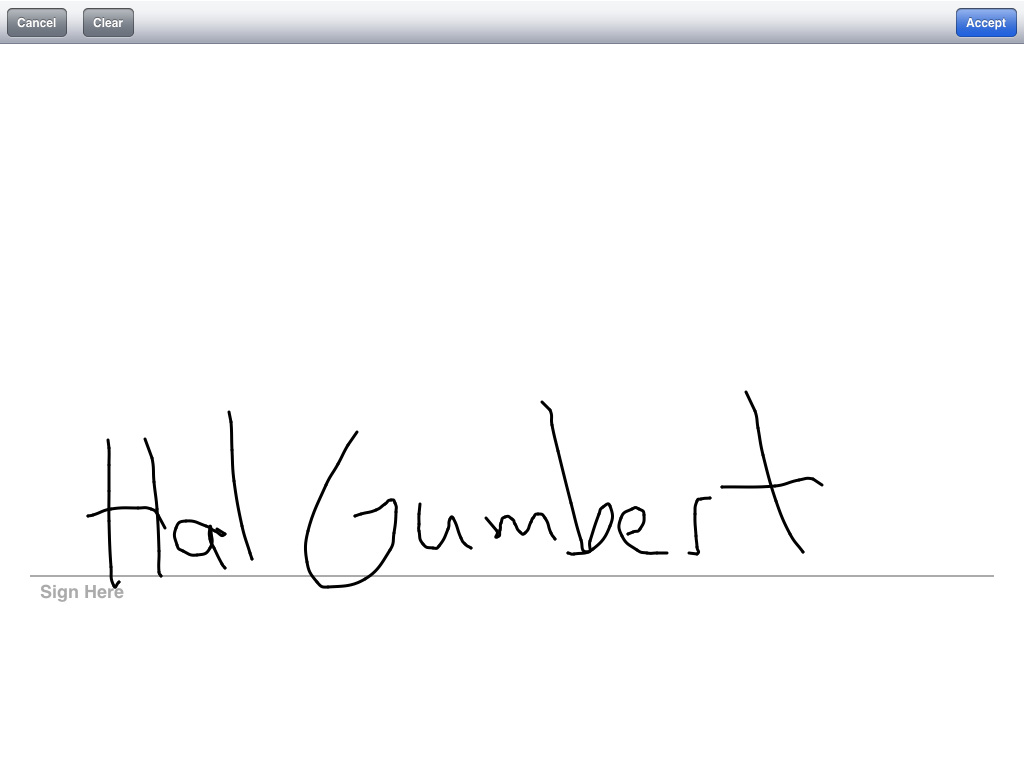 Tapping accept will store the signature as a png with transparency, perfect for super imposing on documents. Once the image is in the container, you can tap the container to replace it with the same three options or you can either open or email the signature. Opening the signature doesn't do much as the black signature appears on a black background. Tapping a second time will cause the Cut, Copy, Paste, Delete options appear at the top of the container.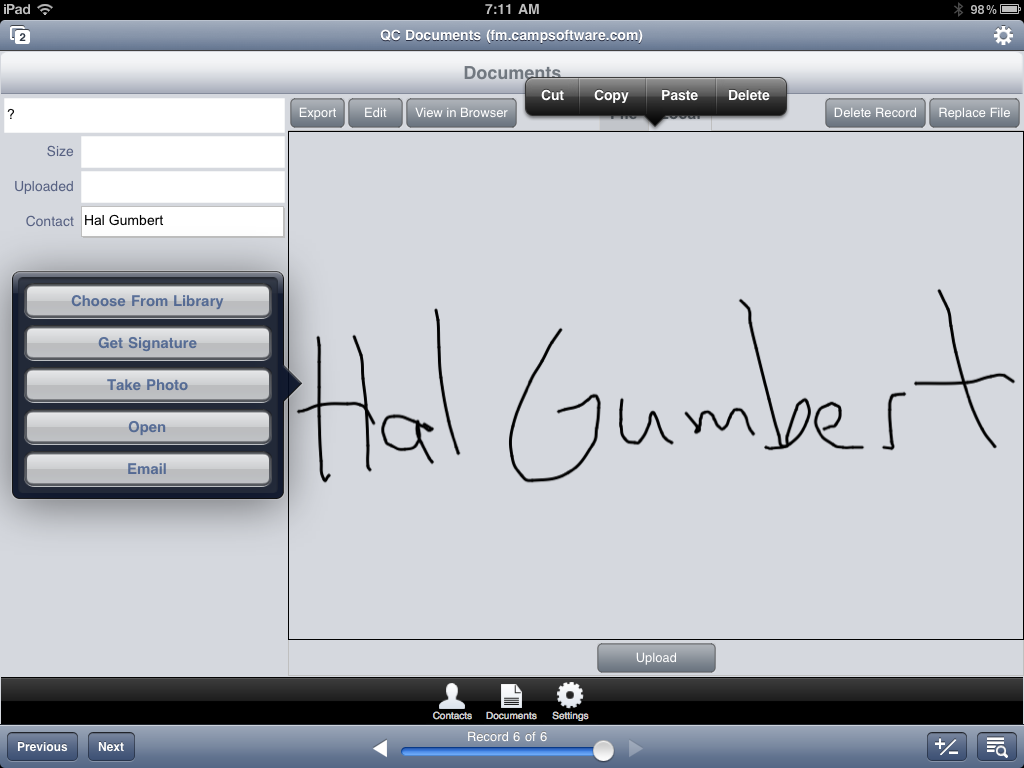 I asked FileMaker if there were any options to remove the signature line so folks could draw pictures and also if an image could be placed in the background for annotations. They said not at this time, but that could be something that could be added later. I didn't think to ask about changing the pen color...
Printing
Printing is huge and this will be the most used new feature from this release. If you don't have an AirPrint printer, you will want the AirPrint Activator:
http://netputing.com/airprintactivator
as it will allow your Mac to share your printers so you can print from your iPhone or iPad. Printing is easy. First tap the Gear icon in the top right corner and then choose Print. Then you can choose to print the Current Record or Found Set as well as the Print Range, Paper Size, Orientation, Scale, and Print to PDF! The number of Paper Sizes are simply outstanding, but there isn't a way to add custom sizes. That might not be a big deal since there are a ridiculous number of paper sizes included. Below, we tapped on PDF and then View, but you could also Email or Save the PDF. Saving the PDF places it in the FileMaker Go 'Files on Device' storage area. Once you view a PDF, you can tap the outgoing action button and open it in other apps or print it. We printed the PDF show below and the quality was nice. The printout was center and aligned to the top of the paper.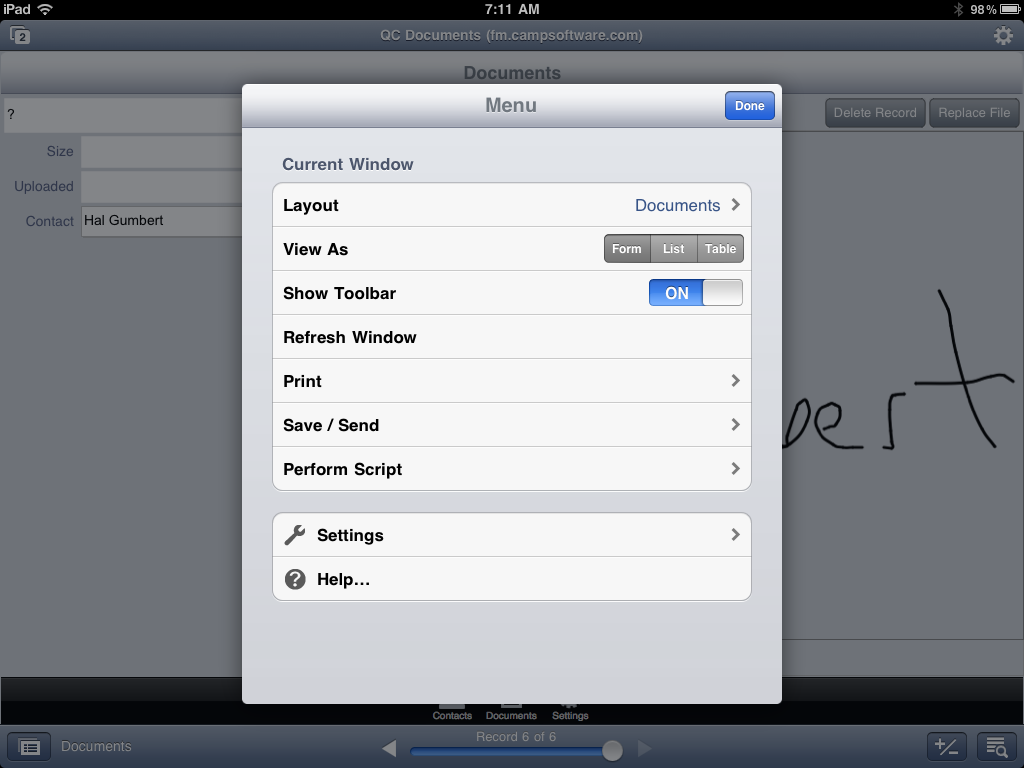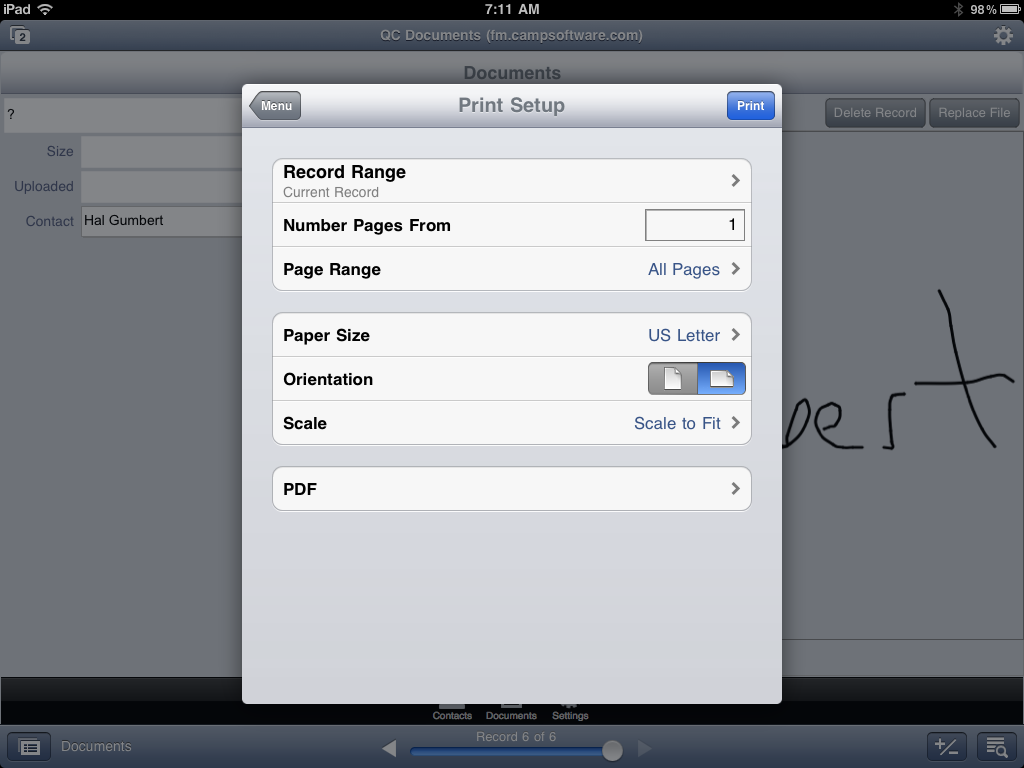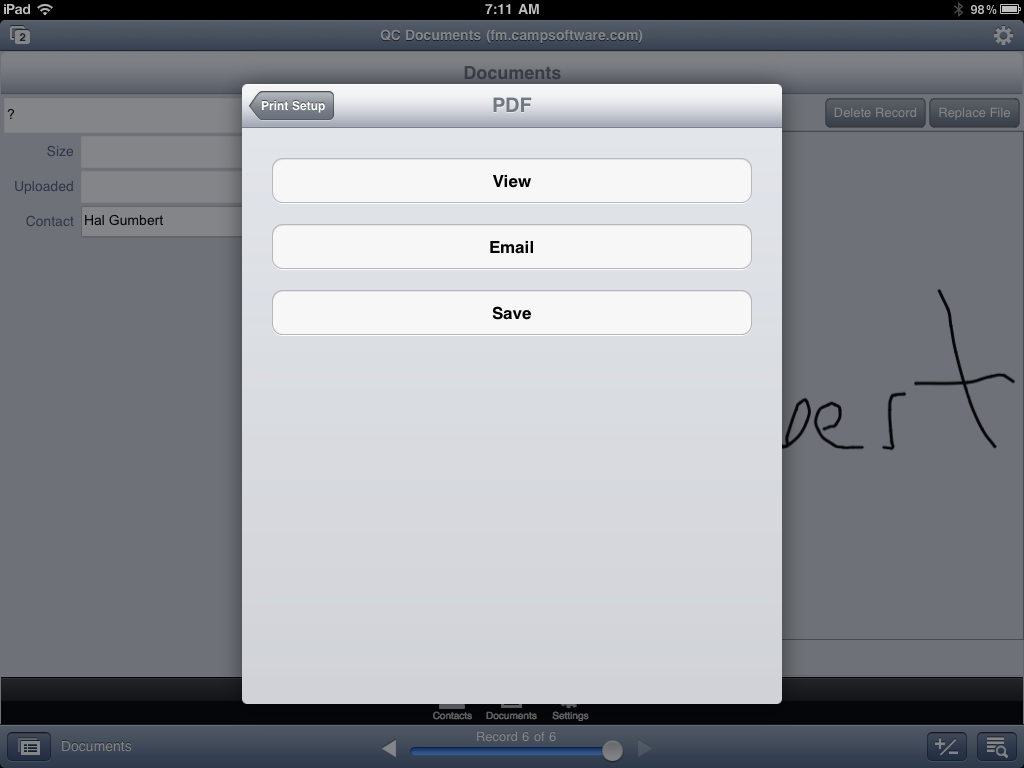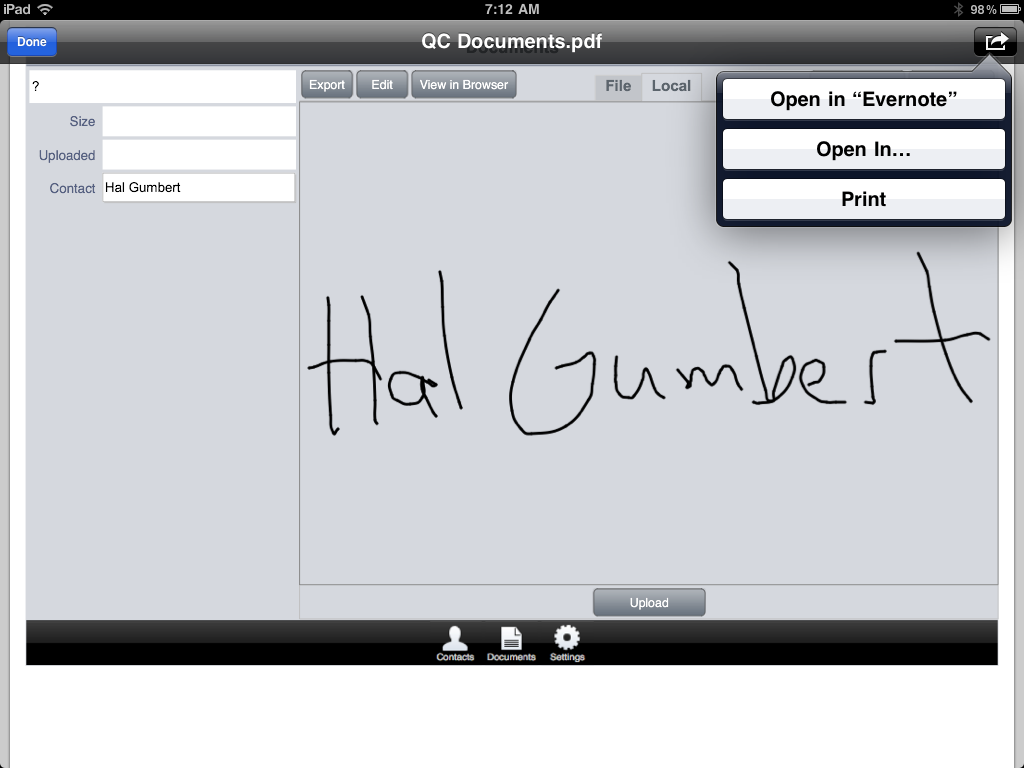 Charting
We didn't try Charting on our own yet, but we did see it demoed. It works just like it does on FileMaker Pro. In fact, if someone updates data in FileMaker Pro, the chart will automatically update just like normal fields do. Charting will be fantastic for executive dashboards. Also, if you ever tried to do charting from SQL databases, combining FileMakers ESS feature (that allows FileMaker to access SQL tables just as if it was a regular table) along with Charting will be simply amazing.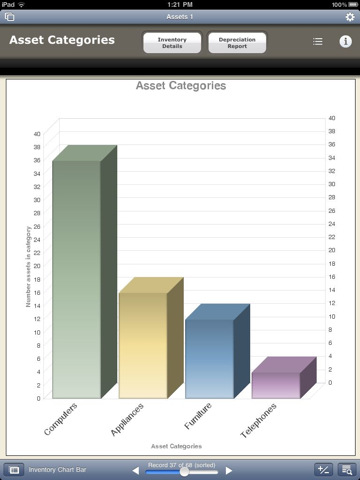 All and all, upgrading is a no brainer! If you aren't using FileMaker Go, now you have more reasons to start using it... Download
http://bit.ly/FileMakerGoiPad
or
http://bit.ly/FileMakerGoiPhone