Generate FileMaker Favorite Hosts XML
Mar 18, 2010 06:14 PM

I was looking at copy and pasting over forty of the Favorite Hosts from FileMaker 10 to FileMaker 11. While I ended up having to copy and pasting them out of FileMaker 10, I created a simple FavHosts.fp7 database to generate the XML portion of the FileMaker Preferences File.
This is what the Favorite Hosts XML portion looks like: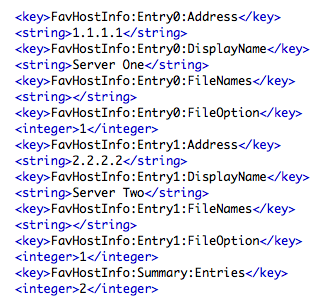 While this isn't terribly hard, you may corrupt your FileMaker Prefs File, so please be careful!
Steps to make this work:
Download the FavHosts.fp7 [dead link] file.
Launch FileMaker 11 and create at least one Favorite Host so you can find the XML to replace.
Quit FileMaker.
Make sure FileMaker is not running.
Find the FileMaker preferences file. On Mac it is located in your User folder in Library/Preferences. Mine is titled "com.filemaker.client.advanced.plist".
Duplicate the preferences file so you have a backup.
Open the preferences file with a text editor. I use TextWrangler and find the XML for the Favorite Hosts. You can see ours above.
Somehow, someway, get your Favorite Hosts out of FileMaker 10 and into the FavHosts.fp7 database. I ended up copy and pasting the info into the FavHosts.fp7 database.
Run the Script "Copy Fav Hosts as XML to the Clipboard".
Paste the XML into your FileMaker preferences file, replacing the current Favorite Hosts info and save the file.
Launch FileMaker 11 and see if your Favorite Hosts are available!
Let us know how it goes...