Hazel - Automated Folder Organization
Jan 03, 2011 04:23 PM

Have you made a New Years Resolution to keep your computer clean? If so, you may want to check out Hazel which as a
free 14 day demo
.
What does it do? In short, it helps to automate cleaning up your files.
Our favorite feature is 'App Sweep' that will automatically offer to delete the preferences files and application support files for Applications that have been deleted.
Hazel can automatically empty your trash for you too and optionally shred your trash. We like to have files in the trash automatically deleted after a week.
Process Files in Folders. Below you can see an example of how Hazel can automatically move an image that was downloaded to the Pictures folder.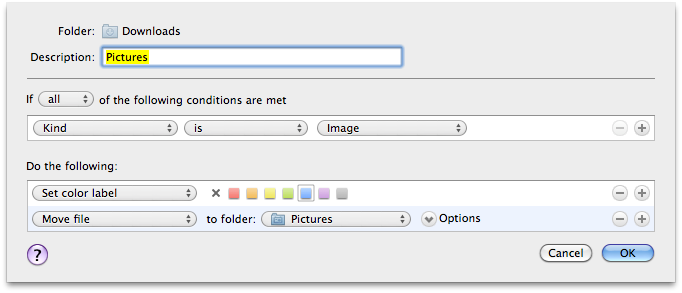 There are many choices on how you can process your files. The two Import into iTunes or iPhoto items are perfect to automatically add items to your media libraries.