MagicPrefs is a Must Have for the Magic Mouse!
May 13, 2010 06:00 PM

If you have a Magic Mouse, you must get MagicPrefs! It's donation ware, so you can try it out first.
I just wanted a few few features like three and four finger clicks, but Magic Prefs does much more. I've set the three finger click to show all windows via Expose. The four finger click exposes the desktop.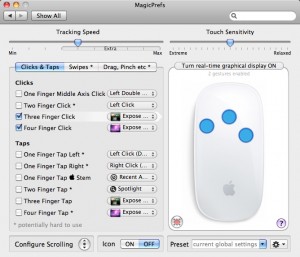 Another thing I found extremely annoying about the Magic Mouse is that I tended to see a ton of stray scrolling in FileMaker databases and also especially with Google Maps. This setting allows you to change the area where scrolling is active. now when I want to scroll, I just slide my finger on the back half of my Magic Mouse.